Sumon Ahmed Sabir
Nominee details
Title

Mr.

Name

Sumon Ahmed Sabir

Position

Chief Technology Officer

Organization

Fibre@Home Limited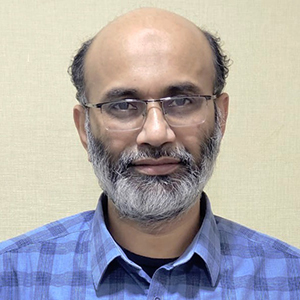 Biographical info
Education/qualifications

Master of Science in Computer Science, Dhaka University, Bangladesh
Bachelor of Science in Physics, Dhaka University, Bangladesh
Relevant Board Experience

Executive Council Member, APNIC
Chair, Policy SIG, APNIC 2017 - 2020
Board of Trustee Bangladesh Internet Exchange Limited (BDIX)
Board of Trustee Bangladesh Network operators Group (BDNOG)
Board of Trustee ISOC Bangladesh, Dhaka Chapter
Core Committee Member, South Asian Network Operators Group (SANOG)
MAG Member, Internet Governance Forum (IGF) 2016-2018
IGF IPv6 BPF Coordinator (With Izumi Okutani) 2016
IGF AI, IoT and BigData BPF Coordinator (With Concettina Cassa) 2018

Senior Management Experience:

Chief Technology Officer, Fiber@Home Limited
Technical Advisor, Fiber@Home Global Limited
Advisor, Felicity IDC Limited
Chief Strategy Officer, Fiber@home Limited From April 2012-October 2016
Managing Director, BDCOM Online Limited October 2006-March 2012
Chief Technology Officer, BDCOM Online Limited, October 2000-September 2006
Nominee statement
It is indeed a great opportunity for me to serve as APNIC EC since February 2020. And I would be happy to take role once again if elected.
In my day job, I am Chief Technology Officer of Fiber@Home Limited, running one of the largest telecommunication transmission network and Internet Gateway in Bangladesh. Beside this, I'm very much committed to our local & international NOGs, IXs and non-profit organisations. For a long time, I have been participating in such crucial technical issues with several governmental bodies for policy development, related to Cyber Security, RPKI, IPv6 etc. Being part of the Core-Committee, we have done numbers of successful events in the last 17 years in all over South Asia through SANOG. It remains as a huge opportunity for the engineers for capacity building, sharing of knowledge and collaboration. Based on this success story of SANOG, in present days many local NOGs were created in all over Asia and performing successfully. I was also a MAG member and regular contributor in many IGF events.
APNIC covers one of the largest areas in the world, with diverse people, language and culture. Working as their voice in APNIC, requires a high level of techno-policy knowledge and hands-on experience. Also, as a part of the community member, I discovered the challenges of the local entrepreneurs, academia and engineers which is different kind in every economy. I believe through APNIC these challenges can be minimised, where strong leadership and capacity building activity is extremely necessary. I would like to continue my contribution with my knowledge, experience and expertise to APNIC Community by serving as an EC Member in the coming days.
---
Nominated by
Organization:

Digi Jadoo Broadband Limited
Reason for nomination
He is dedicatedly involved with APNIC for last 2 decades which is very much needed to take APNIC forward. His knowledge, commitment and leadership is really commendable for an organization like APNIC.
---
Organization:

Internet Exchange Nepal (NPIX)
Reason for nomination:
Sumon Ahmed Sabir is one of the most well appreciated and respected personalities in the internet arena in our region and beyond due to his decades of contribution towards the development of the Internet and related community. He has been serving as the Chief Technical Officer at Fiber@Home in Bangladesh since 2016 and prior to this in 2012 he was appointed in the same organisation as the Chief Strategy Officer to design and implement the country's first-ever metro and Nationwide MPLS network, IP RAN Backhaul for 3G/LTE Networks and Nationwide DWDM Network. He also served as the Managing Director of BDCOM Online Ltd., a pioneer and leading ISP in the country. He holds a very decorative career path full of Internet activities and development.
After completing a master's in computer science from Dhaka University, Sumon started his career as the Internet lead back in 1996 when the Internet in Bangladesh was offline. With his permissive and positive engagement, many of the ISPs started to flourish in Bangladesh. Since then, he is popularly recognised as the Internet Enthusiast and Guru in the country; he is still serving as the last man to consult for technical difficulties and new technology inception in the community.
In Bangladesh, he is the Founding member and Trustee Chair of bdNOG, Founding Chair of BDCERT, Founding member and Technical Advisor of BDIX, Rejuvenating Bangladeshi HAM Community as President, Bangladesh Amateur Radio League (BARL) Call Sign: S21SD. Positioned as Elected Executive Committee Member of Internet Service Providers Association of Bangladesh (ISPAB) from 2002 to 2013 at different portfolios. As a part of it and also in an individual capacity, involved in many Govt. ICT Policy Development Processes. The inception of SMW-4 Submarine Cable changed the Internet landscape in Bangladesh in 2006 and he played the most significant role in integration & provisioning Internet Transits for all the ISPs in the country. Provided leadership and strategic vision for IP Telephony, IPv6 and RPKI deployment in Bangladesh since 2009.
His sheer enthusiasm and in-depth knowledge base on Internet technology with leadership capacity were recognised by Internet Community many times during his 25 years long career. Sumon served as the Co-Chair (2005-2009) and Core Committee Member (2005-till date) at SANOG. He was the Co-Chair of the Policy SIG of APNIC from 2015 to 2017 and he served as Chair, Policy SIG of APNIC from 2017 to 2020. He was elected as a MAG Member of the Internet Governance Forum from the Technical Community and served from 2016 to 2018. He is also found to be a regular speaker, presenter, moderator or Instructor at APRICOT, APNIC, SANOG, bdNOG, btNOG, NPNOG and many other network forums in the world.
He served as an APNIC EC for the last two years in this extreme COVID Situation. In this pandemic situation, his service towards the community was galvanic. His engagement toward the internet community was always thoughtful for the future benefits of society. We believe he will continue his good work for the next term if elected.
---